American Indian Wood Burned Arrow Single Purchase 0050
$52.99 MSRP
$24.00 Wholesale Price
SKU:

0050-39555-NC
American Indian Wood Burned Arrow
This American Indian Wood Burned Arrow can be displayed anywhere and a few would look nice in a quiver. This decoration only replica features a high quality shaft, that's been burned in random patterns. A knapped agate point, which is very sharp, and a feather fletch are wrapped with imitation sinew. About 33-1/2" long, this is hand-worked in our shop by Navajo, Aurelia Joe. Individually priced, you can order as many as you like! Add your own feathers and beads and this American Indian Wood Burned Arrow becomes your tribal identifier!

Each is handmade, please expect slight variations in size, feathers, and burn patterns, as seen in the group photo.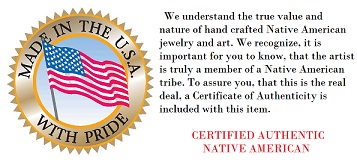 Write a Review
very well made and good authenticity

no nocks only issue

American Indian Wood Burned Arrow

My husband and I could not be any happier with our American Indian Wood Burned Arrow!!! It is so beautiful - from the gorgeous burned design to the perfect feathers and arrowhead. Highly recommend to all!!