Antique Maricopa Face Redware Pottery Large Bowl 0011
$770.00 MSRP
$350.00 Wholesale Price
SKU:

0011-40469-PT
Antique Maricopa Face Redware Pottery Bowl

This Antique Maricopa Face Redware Pottery was hand built and formed with a paddle and stone, sometimes called an anvil. A human face was pinched into shape by the makers' hands and then free-hand painted using a mixture of mesquite sap and cactus spines. Simple patterns work their way around the rim. The clay is stone polished and when it was first made would've had a high shine, it has aged nicely. It's about 5" tall and 6-1/4" wide. In extremely fine condition for its age (early 1900's), it has an old label attached to the bottom. This Antique Maricopa Face Redware Pottery is one of a kind!
When the Salt River Indian Community was established in 1879, the reservation included both Maricopa and Pima tribes within these boundaries. There are very few Maricopa tribal members remaining, and almost no potters among them.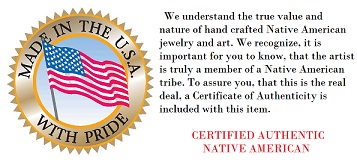 Write a Review
This product hasn't received any reviews yet. Be the first to review this product!