Hand Coiled Hopi Pottery Jar by Alta Yesslith 0215
$633.00 MSRP
$288.00 Wholesale Price
SKU:

0215-37405-PT
Hand Coiled Hopi Pottery Jar by Alta Yesslith
Hopi Geometric patterns advance with orderly repetition around the tangerine cream walls of this sturdy Hopi Pottery Jar. Hand coiled and painted by Hopi artist Alta Yesslith. Her style is crisp and clean, like a single set of deer tracks in freshly fallen snow. The structure of the jar has even symmetry and strength. This compact design is a little over 4" tall and about 4-3/4" wide. Signed by the Hopi artist Alta Yesslith. This Hopi Pottery Jar contains an orderly energy that will brighten up any space.

Alta Yesslith, originally from Keams Canyon, Arizona, is the daughter in law of famed Frog Woman potter, Joy Navasie. She started making pottery years ago and is still active today. Her husband, Dan Tsinnijinnie Yesslith, often works with Alta on the pottery.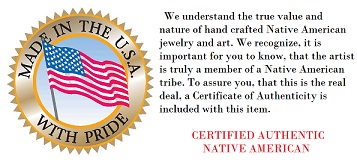 Write a Review
This product hasn't received any reviews yet. Be the first to review this product!