Hoop Dancer Kachina Doll Navajo Golf Trophy Collection 0026
$179.00
$88.00 Wholesale Price
SKU:

0026-19026-KD
Hoop Dancer Kachina Doll
This Hoop Dancer Kachina Doll is part of our Golf Trophy Collection. It includes over 30 Kachinas that are Navajo made, based on Hopi tradition. The handcrafted wood figure is trimmed with a genuine Turquoise nugget, leather, feathers and fur (colors may vary). These average 13" tall (including the cedar base) and 5" wide, and are signed by the Navajo artist, along with their census number. This Hoop Dancer Kachina Doll is a way to award an employee or just give as a gift!

Individually handmade, hallmarks, size and trims may vary from the photos.
Please allow up to two weeks for delivery. We use the utmost safety and care, every step of the way in packing and sending your purchase to you, so that it will arrive ready to display!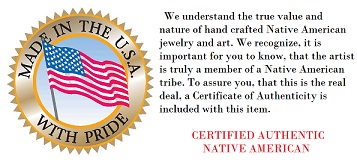 Write a Review
This is a visually captivating pose that, when viewed, appears to be in motion..The artist did a beautiful job in capturing that sense of motion. This would make a visual centerpiece in any display.