Hopi Tewa Pottery Open Top Storage Jar by Alta Yesslith 0241
$289.99 MSRP
$144.00 Wholesale Price
SKU:

0241-37563-PT
Hopi Tewa Pottery Open Top Storage Jar by Alta Yesslith
The Hopi have been refining the art of pottery-making for at least a thousand years. People need things to put things in, you know? You can put things in this Hopi Pottery Jar too! A really nice creation by Alta, this pot is hand painted with Pueblo geometrics inspired by life in the deserts and mountains of the southwest. Created and signed by Hopi artist Alta Yesslith. Her style is crisp and all her pots are hand coiled which give the end result a sturdy thick wall. This design is a right around 4-5/8" tall and about 4-3/4" wide. This Hopi Pottery Jar comes is crafted with tradition and skill and brings an awesome southwest vibe.

Alta Yesslith, originally from Keams Canyon, Arizona, is the daughter in law of famed Frog Woman potter, Joy Navasie. She started making pottery years ago and is still active today. Her husband, Dan Tsinnijinnie Yesslith, often works with Alta on the pottery.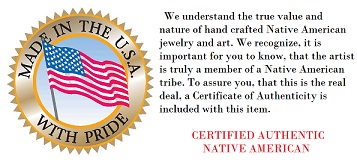 Write a Review
This product hasn't received any reviews yet. Be the first to review this product!