Hopi Tewa Pottery Polychrome Jar by Alta Yesslith 0204
$699.00 MSRP
$366.00 Wholesale Price
SKU:

0204-37304-PT
Hopi Tewa Pottery Polychrome Jar by Alta Yesslith
This Hopi Tewa Pottery by Alta Yesslith is the creation of a real pro. Smooth lines and a flawless painted geometric pattern are the foundation for just a rich and creamy piece of pottery that just says "extra". Traditionally hand coiled and pinched smooth, it was free-hand painted with traditional Hopi geometric designs that represent rain, sky, feathers and the geologic formations that epitomize the southwest landscape known as Mesas. This compact design is 4-1/8" tall and about 5-1/4" wide. Signed by the Hopi artist. This Old Hopi Tewa Pottery is a perfect example of collectible cultural art that you will appreciate every time you look at it!

Alta Yesslith, originally from Keams Canyon, Arizona, is the daughter in law of famed Frog Woman potter, Joy Navasie. She started making pottery years ago and is still active today. Her husband, Dan Tsinnijinnie Yesslith, often works with Alta on the pottery.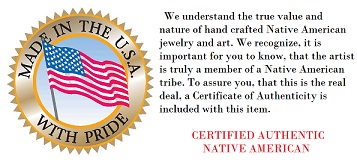 Write a Review
This product hasn't received any reviews yet. Be the first to review this product!