Large Zuni Lizard Pottery Polychrome 3D Relief Design by Deldrick Cellicion 0001
$1,285.00 MSRP
$588.00 Wholesale Price
SKU:

0001-37582-PT
Large Zuni Lizard Pottery Polychrome 3D Relief Design by Deldrick Cellicion
Down in the deserts of Arizona, we know Lizards and this Large Zuni Lizard Pot is the perfect portrayal! The lizards lift away from the surface of the pot as a 3D low relief sculpture in such an amazing way, it really brings them to life. Every detail is carefully considered. The texture of the surface of the pot mimics that of rock or a wall, where we often see our lizards hanging out to hunt or get sun. Even the dragonfly's expression seems to say "oh no, I'm being hunted!" This amazing work of art was made by Zuni artist Deldrick Cellicion. Hand built and shaped, it is hand painted and sponged in bright orange color to create the texture and emphasize the length and curves of the reptiles. It's 9-1/8" tall and about 10-1/2" at the widest, where the Lizards pop out on opposite sides. Signed by the artist and labeled Zuni. A glorious work of art that will get everyone's attention, this Sculpted Zuni Lizard Pot will bring joy to those who are lucky enough to see it up close.

Deldrick are Lorenda Cellicion are a husband and wife team who both specialize in Lizard theme pottery. They have their own exceptional style with sculpted reliefs where the lizards rise out from the pottery. They often work together on a piece but sometimes they make the pottery separately and sign them individually. They are referenced in "Southwestern Pottery: Anasazi to Zuni" by Hayes and Blom and in Schaaf's "Southern Pueblo Pottery: 2000 Artist Biographies". Their work is unique, delightful and highly collectible.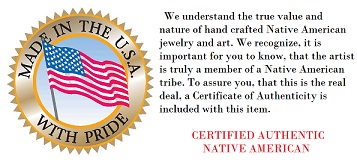 Write a Review
This product hasn't received any reviews yet. Be the first to review this product!