Lizard Kachina Doll Navajo Golf Trophy Collection 0004
$179.00
$88.00 Wholesale Price
SKU:

0004-16803-KD
Lizard Kachina Doll
This Lizard Kachina Doll is part of our Golf Trophy Collection. It includes over 30 Kachinas that are Navajo made, based on Hopi tradition. Handmade. Each is unique, and the wood is decorated with genuine buckskin, feathers and fur with hand painted details. About 13" tall (including the cedar base) and 5" wide. Signed by the Navajo artist, including their census number. This Lizard Kachina Doll makes a nice southwest gift at a nice southwest price!
Individually handmade, hallmarks, size and trims may vary from the photos.
Please allow up to two weeks for delivery. We use the utmost safety and care, every step of the way in packing and sending your purchase to you, so that it will arrive ready to display!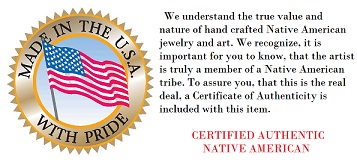 Write a Review
great workman ship love it beautiful hand crafted art, did not look like the picture, still love it.