Navajo Hand Painted Arrow Single By Marlin Goldtooth 0010
$63.36
$28.80 Wholesale Price
SKU:

0010-15217-NC
Navajo Hand Painted Arrow
This Navajo Hand Painted Arrow is a traditional replica that at one time was an identifier of individual tribes. For display only, it's about 33" long & features a high quality shaft that's been stained & striped by Native American artist, Marlin Goldtooth. Marlin, an AZ resident makes each one with the utmost care. The stone agate tip & 3 feather fletch are wrapped with sinew....not glued. Individually priced, you can order as many as you like! This Navajo Hand Painted Arrow would make an excellent addition to your quiver or southwest decor!
Handmade, please expect slight variations.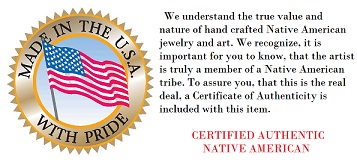 Write a Review
Absolutely beautiful! Perfect for the space I wanted to hang it! This site is a keeper

Arrow was well packaged and arrived in a timely manner, however due to the nature of the beast that is the postal service it was broken in half. Seems rather symbolic right now so I just glued it back together and it now hangs beautifully reminding me to look up. Thank you

This handcrafted arrow by Marlin Goldtooth is definitely amazing and one of a kind. The craftsmanship and care he put into creating this piece of art is breathtaking. My 15 year old son is an archer and has the utmost respect for Native Americans and the history behind American Indian archery technology and uses! This will be displayed proudly in his room and will always be a treasure to him. Thanks so much for creating such a magnificent piece!