Navajo Tan Antique 4" Traditional Dreamcatcher 0623
$39.99 MSRP
$21.60 Wholesale Price
SKU:

0623-43699-DC
Navajo Tan Antique 4" Traditional Dreamcatcher

This Antique 4" Traditional Native American Dream Catcher hold so much importance to Native American tribes, sacred holders of dreams, good or bad. It is believed that the bad dreams are caught up on the web, vanishing with the morning light. The good dreams stay within the webbing, traveling through the webbing to slide off the feathers, allowing that dream to come to light. Measuring about 4" in width and about 14" in length. Each dreamcatcher is made using the finest details as well as authentic materials. The sinew webbing of each dreamcatcher is made specifically for that dream catcher, no two are identical. Handmade by Darlene Edsitty or Nathan Boyd. Certificate of Authenticity is included. Owning or gifting a Traditional Native American-made Dream Catcher will bring protection and clarity to the dreams of the night.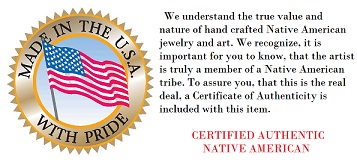 Write a Review
Absolutely thrilled about finding this website the product I was looking for. This will be in my new baby neice or nephews bedroom, once the baby is born.
Was also incredibly impressed by how quickly I received it ??

Love this dreamcatcher! Bought two and gave one as a gift. The recipient loves it as well. Beautiful workmanship. Thrilled with this purchase. These make great gifts. Arrived super fast and packed with care. Thank you!

I love it!