Old Pawn Zuni Turquoise Fetish Heishi Necklace 53 Carved Birds 0073
$3,500.00 MSRP
$1,440.00 Wholesale Price
SKU:

0073-41336-FNK
Old Pawn Zuni Turquoise Fetish Heishi Necklace
This Old Pawn Zuni Turquoise Fetish Heishi Necklace is a reservation style, that might have been made by several members of one family. One to carve, one to string and one to finish....unfortunately, we'll never know. Depicting the prey animal of the sky, these birds are simply carved and etched with drilled eyes. It's a wonderful and traditional design with a 1-5/8" by 1/2" bird at the center, that gradually tapers to 3/4" by 1/4". It's finished with 2mm heishi extensions that are dressed with Sterling cones. Including the hook/eye clasp, it's 35" long, and in original, very good, used condition. This exceptional, Old Pawn Zuni Turquoise Fetish Heishi Necklace is a connection to the Great Spirit, that can be worn or displayed!

NOTE: Info came to us via a valued customer, who said that the maker of this necklace is most likely Rufus Comosona (d). "I have a triple strand made by him that was identified as such when I purchased it, and then confirmed by his nephew and brother. There is little to no info about him other than documents that indicate he had a tough life, and has now passed." We do know that that there are several family members, you are or were active artisans, such as: Chimo, Valerie, Steven and Shenel Comosona.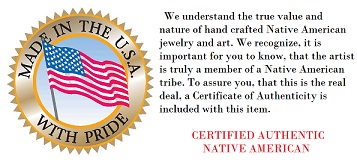 Write a Review
This product hasn't received any reviews yet. Be the first to review this product!