Sunface Kachina Doll Navajo Golf Trophy Collection 0007
$179.00
$88.00 Wholesale Price
SKU:

0007-16807-KD
Sunface Kachina Doll
This Sunface Kachina Doll is part of our Golf Trophy Collection. It includes over 30 Kachinas that are Navajo made, based on Hopi tradition. Handcrafted, each wood figure features a colorful face with a halo of feathers, and is trimmed with leather, hand painting, fur and feathers. These average 13" tall and 5" wide and each is artist signed, along with a census number. Perfect for a gift or an award, this Sunface Kachina Doll is an affordable addition to any southwest collection!

Individually handmade, hallmarks, size and trims may vary from the photos.
Please allow up to two weeks for delivery. We use the utmost safety and care, every step of the way in packing and sending your purchase to you, so that it will arrive ready to display!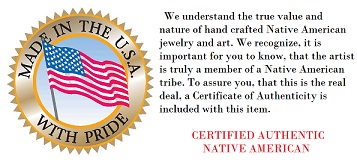 Write a Review
Vibrant colors make this piece an eye catching stand-out in any collection. This is an authentic, beautifully made Kachina that I am proud to show my guests.