Vintage Blue Corn Maiden Kachina Doll Hano Mana by Otellie Jackson 0024
$1,000.00 MSRP
$400.00 Wholesale Price
SKU:

0024-31472-KD
Vintage Blue Corn Maiden Kachina Doll
This Vintage Blue Corn Maiden Kachina Doll by Otellie Jackson depicts Hano Mana, whose presence is a prayer for a bountiful harvest. The cottonwood is hand carved and painted in the traditional colors and she wears a maiden's shawl and offers a tray of cornmeal. It's 6-1/2" tall (including base) & 3" wide and is signed and dated 1988, but we believe this is older. It was kept in a display case and is in pristine condition. This Vintage Blue Corn Maiden Kachina Doll is a rarely seen carving from a woman who just wanted to provide a living for her family!

Otellie (1915-?) was born in Sichomovi First Mesa and is a member of the Sand Clan. She is recognized as the first female carver of katsinem. She learned to carve because her husband was blind and her style is similar to Henry and Peter Shelton. She is referenced in Bromberg's "Kachina Doll Carving", Schaaf's "Hopi Katsina1600 Artist Biographies"and Day's "Traditional Hopi Kachinas", to name a few.

Please allow up to two weeks for delivery. We suggest & prefer to use expedited shipping when sending fragile Native Crafts. We use safety & care every step of the way in packing & sending your purchase to you, so that it will arrive ready to display!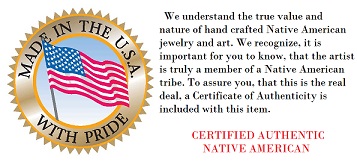 Write a Review
This product hasn't received any reviews yet. Be the first to review this product!