Vintage Hopi Clown Kachina Doll Koshari By Morez Smith 0057
$2,000.00 MSRP
$1,000.00 Wholesale Price
SKU:

0057-23146-KD
Vintage Hopi Clown Kachina Doll
This Hopi Clown Kachina Doll by Morez Smith depicts Koshari. Both sacred and profane, this supernatural depicts the overindulgence of food, which signifies gluttony. The actions, while highly amusing, are not what the Hopi or anyone else would like to be caught doing in public. You can't help but smile along with his mischievous behavior and engaging smile. Watermelon slices, a medicine bag and breech cloth provide simple but traditional accents. He even sports hand painted cowboy boots. He's about 13" tall including the base and about 6" wide. This Vintage Hopi Clown Kachina Doll base is signed and was professionally restored by Milton Howard.
Please allow up to two weeks for delivery.
We suggest and prefer to use expedited shipping when sending fragile Native Crafts. We use safety and care every step of the way in packing & sending your purchase to you, so that it will arrive ready to display!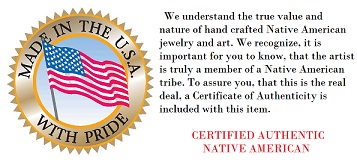 Write a Review
This product hasn't received any reviews yet. Be the first to review this product!