Vintage Hopi Horned Owl Kachina 1991 Doll by Loomatoochi 0040
$1,500.00
$888.00 Wholesale Price
SKU:

0040-30653-KD
Vintage Hopi Horned Owl Kachina
This Vintage Hopi Horned Owl Kachina doll by Loomatoochi, depicts Mongwa. Like other katsinsa, he has multiple functions. A leader of the warriors, he brings the yucca whippers, which he carries in both hands, to the summer dances and disciplines the clowns. Carved from cottonwood and hand painted, his face and wings are exceptional! Additional wood details like the turquoise necklace, fringed moccasins and his quiver, with both bow and arrows, make this highly collectible. About 13" tall (includes base), 4-1/2" wide & 4" deep. This Vintage Hopi Horned Owl Kachina is signed and dated '91.
Please allow up to two weeks for delivery. We use safety and care every step of the way in packing and sending your purchase to you, so that it will arrive ready to display!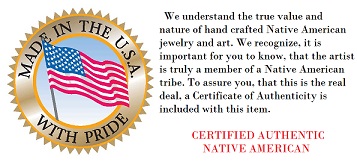 Write a Review
This product hasn't received any reviews yet. Be the first to review this product!