Vintage Hopi Mudhead Kachina Doll by Wilbert Talashoma 0116
$249.99 MSRP
$120.00 Wholesale Price
SKU:

0116-31470-KD
Vintage Hopi Mudhead Kachina Doll
This small, Vintage Hopi Mudhead Kachina Doll by Wilbert Talashoma is the dancer that appears in almost every ceremony as comic relief when things get too serious! With a head and body that looks like it was made from mud, his round, open eyes & mouth are poised to play the next guessing game. He has the traditional knob style mouth, eyes, ears and hair knots. He carries a rattle and yucca whip and wears the traditional, black skirt with bands of red & green; he also wears a red yarn neck scarf. He's 6-1/2" tall, including the base & 5" wide. This has the original handwritten tag identifying it as being carved by Wilbert and was refurbished at some point. The Vintage Hopi Mudhead Kachina Doll is one of a kind!
This might have been carved by Wilbert Talashoma Sr. (1929-) because it came with a collection of older Native American items. Both Wilbert Talashoma Sr. and Wilbert Talashoma Jr. (1959-) are well known and considered to be master kachina carvers whose work is sought after by collectors.
Please allow up to two weeks for delivery. We suggest & prefer to use expedited shipping when sending fragile Native Crafts. We use safety & care every step of the way in packing & sending your purchase to you, so that it will arrive ready to display!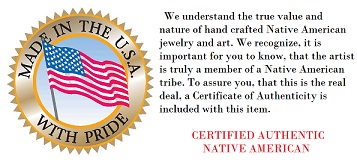 Write a Review
This product hasn't received any reviews yet. Be the first to review this product!