Vintage Hopi Pottery Small Oraibi Bowl by Treva Burton 0102
$325.00
$180.00 Wholesale Price
SKU:

0102-31706-PT
Vintage Hopi Pottery

This Vintage Hopi Pottery by Treva Burton is a lovely, little bowl that's as nice as it gets! Acquired from a private collector, it was hand coiled, pinched smooth and then painted with stylized geometric patterns that include rain, water and clouds. The inside is painted with tadpoles which represent water, sacred to a desert people. It's about 2-3/4" tall and 4-1/4" wide and circa 1970's. Enrich your southwest decor with this Vintage Hopi Pottery....it's wonderful and it's one of a kind!
Treva (1929-2007) was born and lived in Oraibi (Third Mesa). She was the younger sister of Bessie Monongye. Like her sister, she was taught pottery and basket making by her grandmother, Dalashongsie. Treva is referenced in Schaaf's "Hopi-Tewa Pottery 500 Artist Biographies".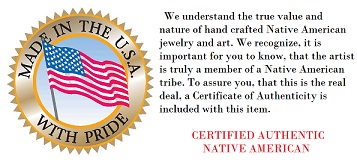 Write a Review
This product hasn't received any reviews yet. Be the first to review this product!