Vintage War God Kachina Doll By First Mesa Carver Alton Tungovia Sr 0172
$900.00 MSRP
$440.00 Wholesale Price
SKU:

0172-31231-KD
Vintage War God Kachina Doll
This Vintage War God Kachina Doll by Alton Tungovia Sr. depicts Pö-ökang-hoya. He is one of the twin gods, who are grandsons of Spider Woman. He often appears in the Mixed Dances and sometimes in the evening kiva dances. He is considered a Fighting Kachina. He wears a skull cap with feathers. His face is painted black with red paddle ears and vertical warrior stripes are painted on his cheeks, arms and body. He wears a fox tail around his neck and a full pelt on the back of his sash. He's 11" tall & 4" wide, circa 1980's and is in very good, original condition. This Vintage War God Kachina Doll is signed under the base.

Alton (1957-2011) was born into the Hopi-Tewa Bear Clan in Polacca, Arizona and started carving in the 1970's. His talented family is known for their fine Katsina dolls and pottery. He is referenced in Schaaf's "Hopi Katsina 1600 Artist Biographies" along with a few other carvers with the same last name.

Please allow up to two weeks for delivery. We suggest & prefer to use expedited shipping when sending fragile Native Crafts. We use safety & care every step of the way in packing & sending your purchase to you, so that it will arrive ready to display!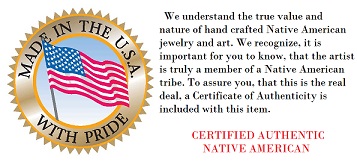 Write a Review
This product hasn't received any reviews yet. Be the first to review this product!