Zuni Rain Priest Kachina Doll Navajo Golf Trophy Collection 0035
$179.00
$88.00 Wholesale Price
SKU:

0035-19024-KD
Zuni Rain Priest Kachina Doll
This Zuni Rain Priest Kachina Doll is part of our Golf Trophy Collection. It includes over 30 Kachinas that are Navajo made, based on pueblo tradition. The handcrafted wood figure, who has power over the rains is decorated with leather, feathers and fur (colors may vary). These average 13" tall (including the cedar base) and 5" wide, and are signed by the Navajo artist, along with their census number. This Zuni Rain Priest Kachina Doll makes affordable gift giving...just a click away!

Individually handmade, hallmarks, size and trims may vary from the photos.
Please allow up to two weeks for delivery. We use the utmost safety and care, every step of the way in packing and sending your purchase to you, so that it will arrive ready to display!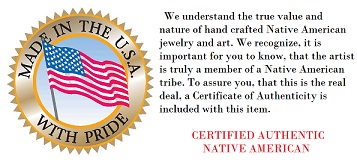 Write a Review
Marvelous Zuni Rain Priest Kachina

I have been traveling through the Southwest the last two Summers stopping at various museums and shops along the way. This Kachina is among the best I have purchased for its price and its quality. The details and features of the Kachina are quite good. The price was outstanding especially since it was on sale. But even if I had purchased it at the full price, it was better than some other Kachinas I purchased from other places with higher price tags.

Since we are in the midst of a prolonged drought, I am hoping that the Zuni Rain Priest will grant us bountiful rains in the upcoming rain season.