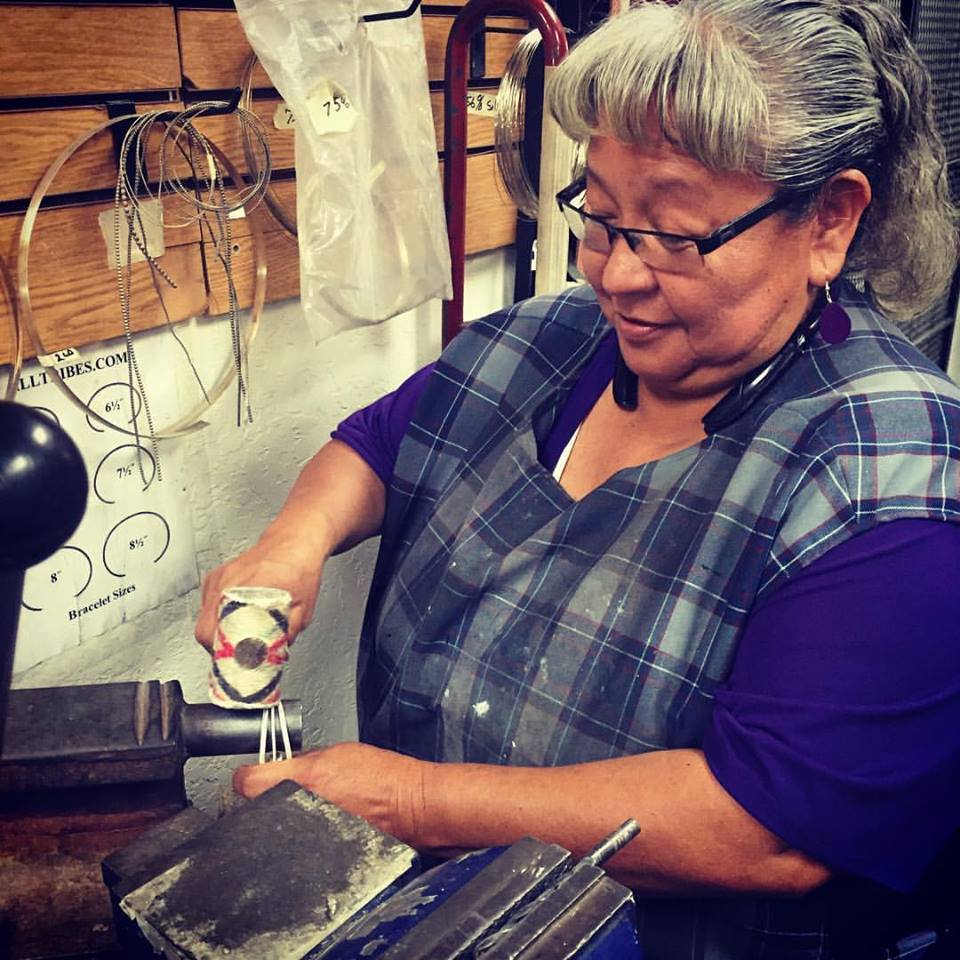 Welcome to Alltribes.com!
We have been serving the Native American/Southwestern jewelry industry for many years, and we are the online leaders in Native American jewelry. First time visitors on our website are probably wondering, just who we are, and what has made us so popular. We are a wholesale dealer, who stands behind our products. All of our products are genuine, including the Southwestern artifacts that we sell, as well as, our jewelry. We believe in accurately representing our products. If you have any questions or concerns, whatsoever, please let us know. We will be happy to clarify them for you. Alltribes has received terrific reviews from all corners of the world. We are known, as a trend-setter in the world of both Native American jewelry and fashion jewelry. We remain committed to getting this information out to every Native American enthusiast out there. These are the principles that we represent. Alltribes prides itself on its extensive collection of Native American jewelry, Kachina dolls, pottery and artifacts. We have never lost sight of the cultural impact that has been left by the American Southwest. It is especially, seen by the artworks that the Native Americans have left for all of us to view. The Navajo, Hopi and Zuni tribes tell only a part of the legendary tales that defines the desert. Alltribes is, also, at the front of the social media revolution. Facebook, Twitter and Pinterest are just some of the places that you can find high quality pictures, as well as, special discounts and savings on Alltribes' jewelry. We have come a long way from the days of yesteryear, when we first started out on our venture. We can boast that Alltribes has been in the making for about, fifty-plus years. It began when our original owner sold his first two rings for $20.00, and, then, decided to make his mark on the industry by starting our business, Alltribes! At one time, we had stores in New Mexico, Colorado and Arizona, but then, the internet came on the scene, and we made the change. We therefore, converted over to our online stores, and the rest is history.
When you shop at Alltribes, you will find a vast array of jewelry. We boast the largest collection of turquoise jewelry, which is genuine. We deal with Sleeping Beauty and Kingman Turquoise, which is native to our area. We purchase our stones directly from the miners, so that there is no middle man to deal with. Then too, we also, can offer handmade jewelry pieces that can be made right here in our shop, in Gilbert, Arizona, by Native American Artists/silversmith that can design, customize and create. We boast the largest selection of turquoise jewelry, silver jewelry and also, other gemstones with many of our designs. We also, have an exquisite collection of jewelry pieces that includes, inlay rings, dangle earrings, pendants, belt buckles, watches and bolo ties. Most of these pieces are formed with silver by our silversmith. Alltribes' focus is to create fashionable items for all walks of life. We can create for the conservative or for the bold enthusiast. We can guarantee that you will find something in the Alltribes' collections that will help you make that special connection. Southwest and Native American jewelry has experienced a surge in popularity, over the last decade. For further information, please contact us, we will be happy to offer you our expertise and assist you!
Here at Alltribes™ we specialize in creating, retailing and wholesaling some of the market's highest quality Native American Indian Turquoise and Silver jewelry such as: Concho Belts, Bracelets, Necklaces, Earrings, Belt Buckles, Bolo Ties, and Watches. In addition to the jewelry and art we source from the reservations around the US, we maintain a jewelry workshop with Native American silversmiths working to create new designs, custom orders and repairs. We also buy and sell Antique and Old Pawn Native American jewelry and art.
In the past 50 years we have had Trading Posts in Colorado, New Mexico and Arizona. We have traded with the majority of the Wholesalers and manufacturers in the Southwest. Initially we sold on ebay for several years before founding our website, Alltribes.com & trade, which has been online for 19 years.
We also specialize in Navajo and Hopi Kachina Dolls, Navajo rugs, Pottery, Tomahawks, Peace Pipes, Dreamcatchers, Indian baskets, and other Native American artifacts.
We've been in the Indian Arts business for over 50 years buying and trading with artists from the many tribes around the U.S. The majority of our Native American jewelry is produced by Navajo, Zuni, Hopi, and other Pueblo Native American artists.
To all of you, from all of us at Alltribes.com - Thanks for stopping by!
Richard Candy
Owner, Alltribes.com ™
Stop by and see us at our Store in Gilbert !
Alltribes Indian Art LLC
75 W. Baseline Road - Suite 6
Gilbert, Arizona 85233
800-417-0024
Store Location
Please give us a call or come by the shop.
75 W. Baseline Road Ste 6
Gilbert, AZ 85233
United States of America
(480) 963-2284
(800) 417-0024 toll free
Toll-free: (480) 963-2284
Monday to Friday: 6am - 3:30pm
Saturdays: Closed Sundays: Closed