Zuni Lizard 3D Sculpted Pottery by Lorenda Cellicion 0214
$399.99 MSRP
$222.00 Wholesale Price
SKU:

0214-42767-PT
Zuni Lizard 3D Sculpted Pottery by Lorenda Cellicion
This Vintage Zuni Indian Designed Lizard Pottery by Lorenda Cellicion is a signature style for the Cellicions and each pottery truly represents the wildlife of the Southwest! This pottery features lizards that have long curving tails that track around the walls of the pot. The lizards rise from the pottery wall in an eye-catching sculpted low-relief which brings them to life. The speckles along the back and the texture of the sponge-painted orange backdrop keep true to the scenes of lizards on walls that are common to the southwest. It is 7" tall, 4- ½ in width. There is a 1" top opening with a 6 7/8 depth inside the pottery. With a weight of 1lb 5oz. This Vintage Zuni Indian Designed Lizard Pottery is signed by the artist Lorenda Cellicion.
Deldrick and Lorenda Cellicion are a husband and wife team who both specialize in Lizard theme pottery. They have their exceptional style with sculpted reliefs where the lizards rise out from the pottery. They often work together on pottery but sometimes they make the pieces separately and sign them individually. They are referenced in "Southwestern Pottery: Anasazi to Zuni" by Hayes and Blom and in Schaaf's "Southern Pueblo Pottery: 2000 Artist Biographies". Their work is unique, delightful, and highly collectible.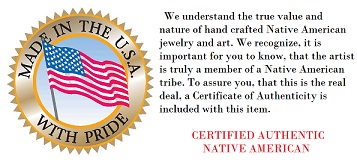 Write a Review
This product hasn't received any reviews yet. Be the first to review this product!