Vintage Hopi Salako Taka Kachina Doll 12" Tall by Belvin Yuyaheova 0101
$859.99 MSRP
$440.00 Wholesale Price
SKU:

0101-42034-KD
Vintage Hopi Salako Taka Kachina Doll
This Vintage Hopi Salako Taka Kachina Doll was hand carved and painted by Belvin Yuyaheova. Rarely seen at any dance, along with his sister, the Salako Mana, they bring the cloud supernaturals to the mesas and causes them to remain there, to wait for rain. The cottonwood features an elaborate tableta with rain and corn symbolism and powerful eagle feather points. He's wrapped in a tunic of eagle feathers eagle feathers. Beautifully detailed, he's 12" tall and 6" at the widest. Signed and dated '85, this in very nice, used condition. A wonderful collectible for your home or office, this Vintage Hopi Salako Taka Kachina Doll is one of a kind!
Belvin was born at Keams Canyon, Arizona and resides in Shungopovi (Second Mesa), and is a member of the Snow Clan. He has been carving since he was 11 and is also a silversmith. He may be related to Farrell Yuyaheova.

Please allow up to two weeks for delivery. We use safety and care every step of the way in packing and sending your purchase to you, so that it will arrive ready to display!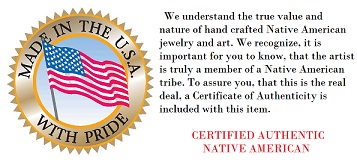 Write a Review
This product hasn't received any reviews yet. Be the first to review this product!